Take control of your well-being
At the University of Saskatchewan, we are committed to offering faculty, staff and eligible family members free access to confidential services and resources to support a healthy mind, body, and life. That's where LifeWorks, our Employee and Family Assistance Program (EFAP), comes in.
Through our EFAP, you and your family have access to 24/7, confidential support – available by phone, online or through the LifeWorks app.
Crisis support and urgent assistance
In the case of immediate threat of danger, or life threatening or severe psychological difficulties, contact:
Saskatoon Police Service 911 or 9-911 (on campus)
Royal University Hospital 103 Hospital Drive
Campus Protective Services (306) 966-5555
How to access EFAP
By phone
To schedule an appointment with a counsellor, or to find out how to connect with LifeWorks' many services, simply call the 24/7 confidential, USask-dedicated toll-free hotline:
1-855-575-1740
Online or via the LifeWorks app
Log in to Lifeworks or download the LifeWorks app (see registration instructions below) to connect with a counsellor and access all the resources offered through our EFAP.
What comes with the app?
Advice from a counsellor with just a tap of your finger
Tools, podcasts, and videos that are JUST FOR YOU
Over 20 self-paced programs to help you tackle life's challenges
All this, and MORE!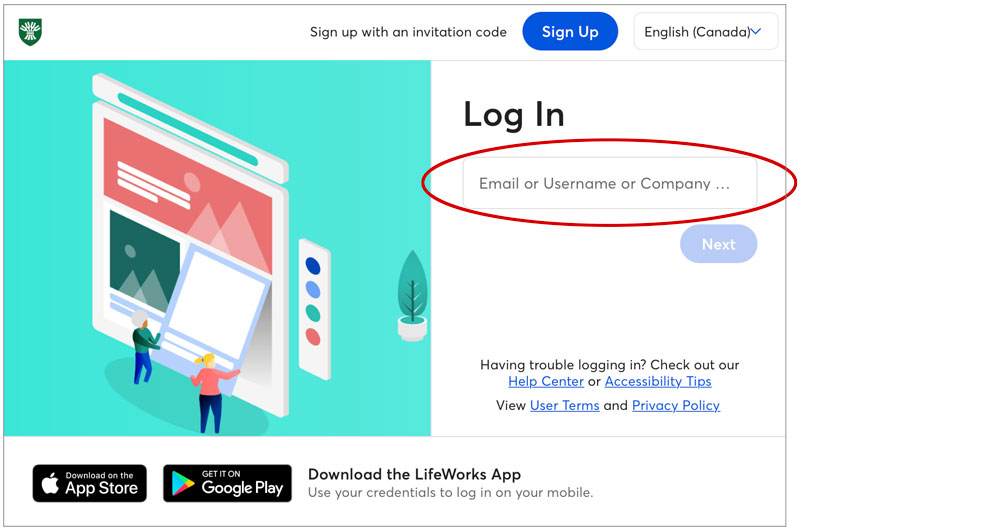 Registration instructions
Download the app or go to login.lifeworks.com
Email or Username or Company Name: USask or your USask email
Eligibility
All USask employees and their eligible family members (e.g. dependents and/or related household family members) are eligible to use LifeWorks' EFAP services.
The LifeWorks EFAP is a 100% employer-paid program. Please note you may not have coverage under your USask benefit plan should you continue to receive support after your EFAP services end or you are referred to another professional. It is suggested that you reach out to Sun Life to ensure any services recommended by an EFAP counsellor are covered under your benefit plan. You can also review your benefit plan summary for more details on your benefit coverage.
Counselling therapy
USask's dedicated EFAP counsellors are trained at a master's level or higher. They are available to help you and your eligible family members overcome life's challenges, such as:
managing anger
workplace stress
mild to moderate anxiety and depression
conflict and bullying
retirement
injury or trauma
work-life balance, and more.
More information about the types of counselling services.
Intake
LifeWorks has an accredited intake process for collecting information, starting your file, and assessing your needs.
Each call is different, but your intake conversation will likely include questions to determine:
Your concern and its severity
A discussion about all the different ways LifeWorks can support you.
Booking
LifeWorks will do its best to accommodate any preferences you have for the format of counselling, scheduling, location or even counsellor characteristics. The clinical quality and impact of EFAP counselling is virtually the same whether you talk in-person, by telephone, online video or in online groups.
You may get appointment details during this booking call, or your counsellor may call you directly.
Counselling Sessions
In your first 1:1 counselling session, you and your counsellor will discuss what brought you in as well as review some additional questions to better understand your needs. Since EFAP counselling is short-term and goal-oriented, you and your counsellor will talk about what is on your mind, and then set a short-term counselling goal.
You and your counsellor will agree to the length of your time in EFAP counselling to ensure you achieve your goal through the short-term program. Or, if your counsellor feels you would be best supported with more specialized or longer-term support, they may recommend resources outside of the EFAP.
Confidentiality
The key is confidentiality!
LifeWorks take the utmost care to protect the identity of anyone who uses their services. The only exceptions to confidentiality include those governed by law, i.e., we are required to release documents under court subpoena, and we have a duty to intervene and report if a consultant or counsellor deems an individual to be at imminent risk of harm to self or others.
No one will know you have used the EFAP unless YOU tell them
Many local offices for face-to-face counselling, no back-to-back appointments with employees from the same organization
Counselling also provided online or by phone. Both are increasingly in demand, are clinically effective and provide more flexibility than face-to-face counselling
Email or voice messaging in accordance with your instructions
Online services and programs are firewall and password protected
All confidentiality is protected within the limits of the law
Employee perks
LifeWorks offers USask employees access to a number of perks and exclusive offers to various products including:
electronics
rental cars
vitamins and supplements
sleep products
and more
The deals change frequently so check back often. Log into LifeWorks online to access these perks and more.