About us
Faith Leaders are available for support during these trying times. Reach out, have a chat or share a prayer. #stayhome as much as you can but don't forget to connect with others (virtually).
The University of Saskatchewan has a longstanding history of collaboration with faith representatives who have contributed to a campus culture of respect, inclusion, and pluralism. 
The growing diversity of religious and spiritual backgrounds and beliefs of the University community presents an opportunity to build robust connections with communities of faith, interfaith understanding, and co-operation. Faith Leaders are advocates for such conversations, provide spiritual guidance, support to the University community, advice regarding religious issues, and educational and cultural events.
Some Faith Leaders provide one-on-one spiritual counsel and all represent links to their wider faith communities.
Friends for Dinner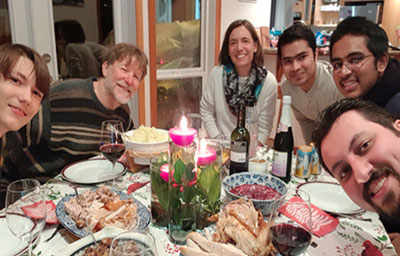 Friends for Dinner is a fun and unique opportunity for students who cannot be with their families during the December holidays. It gives them an opportunity to enjoy a meal with members of the USask and Saskatoon communities while they learn about the wide-range of traditions found in Canada as host families share the spirit of the holiday season.

Some international students have never experienced the rich varieties of food, friendship and traditions of the Canadian holiday season. Some are alone during these festive days and are unable to be with their families during the university break.

If you are a registered international or domestic student who is unable to be with family during the holiday season, you are encouraged to register.
Friends for dinner is organized by the University of Saskatchewan's International Student and Study Abroad Centre (ISSAC), Student Wellness Centre (Peer Health) and Faith Leaders Council.
Check this space for updates in December 2020.
Ongoing events - Cancelled temporarily
All of the ongoing events listed below have been cancelled or postponed for the time being. Please check this website periodically for future updates.
Good Breakfast - Cancelled
Wednesdays and Thursdays from 8 - 9 am at the USask Community Centre (Room 104, Marquis Hall)
Join USask Faith Leaders for free muffins and coffee. Take breakfast to go, stay and chat, or study.
Bible Study - Cancelled
With Pastor Lou Leventhal
Wednesdays from 5:00 - 6:15 pm at the USask Community Centre (Room 104, Marquis Hall)
Virtual events
The USask Faith Leaders are available to support you even though they can't serve muffins and coffee, we can have a conversation and create connections.
Rev. David and Pastor George are hosting a virtual lunch every Wednesday this May, 2020 at 12pm. (May 13, 20, 27). So bring your lunch and join us for a virtual meet-up.
Here are the meeting details:
Join by Webex

Join by phone:
1-306-808-2023 (Canada toll - Saskatoon)
1-855-966-1197 (North America toll free)

Meeting number:
924 350 253
Contact information
If you need someone to talk to, consider speaking with a faith leader. Faith leaders offer support and can connect you with the faith organization they are affiliated with.
Drop-in office hours take place in the USask Community Centre (room 104, Marquis Hall).