About
Diversity is a central component of excellence; one cannot achieve excellence without also incorporating diversity.
Creating a welcoming and inclusive workplace
As members of the University of Saskatchewan, we lead the way in role modelling and creating a welcoming and inclusive workplace. We are proud of the diversity of our faculty and staff and we recognize that our university only grows stronger as we better reflect the province and society as a whole. We are committed to diversity and having a workforce that is representative of our community. 
Diversity begins with ourselves. It is the responsibility of everyone within our community to create a warm, safe, and inclusive environment. However, many of us are not sure what inclusion looks or feels like or how it relates to our job responsibilities. Self-awareness, education and training are all critical to being part of the solution.
To give you a starting point we would invite you to watch this video with the following outcomes in mind:
Increase self-awareness of personal thought patterns and behaviours
Develop insights of another world view and cultivate empathy
Challenge yourself to understand your personal biases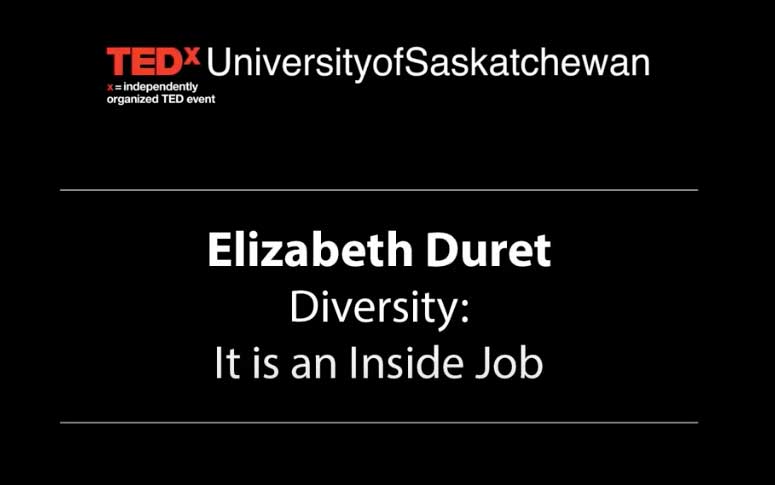 Everyone brings a lifetime of influences that shape how we interact, think, and evaluate others. What kinds of influences did you have growing up? How do these influences continue to shape who you are today?

We all have unconscious biases that sometimes we can be afraid to admit or talk about. Have you ever had an unconscious bias or an uncomfortable reaction to someone that is different from you? Explore and ask yourself questions about why you may have reacted the way you did.

Can you think of an experience in your life when you felt disconnected or when you didn't belong? What did this experience teach you? (If you are comfortable, practice building empathy by sharing your story with a trusted colleague). What do you do to make everyone feel included?

What is one concrete action you can take tomorrow in your role at the university to make the world a kinder, gentler place?
Our principles and values
A respectful environment is free from unlawful discrimination and harassment, however, it involves more than compliance with laws and policy. It also involves embracing our University's Values. 
Our University's Values encourage trusting relationships, fairness and kindness and set a high standard for moral behavior. We feel the only way to pass values onward is to lead by example, be accountable to how we conduct ourselves and use good judgement and sensitivity to the way others see and interpret our actions. All members of the University community have a priority responsibility to live University's Values and reflect them back in our daily interactions and decisions.
Diversity in the broadest sense, includes all the different characteristics that make one individual different from another such as race, gender, ethnic group, age, personality, cognitive style, tenure, family status, organizational function, education, cultural background and more. Workplace diversity is an environment that respects, protects and inclusive of each employee.
Inclusion is an verb and is the co-created culture and shared space in which we all, in relationship to one another, feel respected, valued and contributive as we achieve our goals and share the gifts of our identities. No action big or small is irrelevant when you are working toward creating an inclusive, welcoming, and safe work environment.
Equity is about understanding the needs of people and treating them people fairly. This means you acknowledge their differences and actively work toward removing specific barriers to success that have been historically experienced by groups of individuals known as the equity groups (Aboriginal people, women, persons with disabilities, and visible minorities/racialized groups) To treat everyone "the same way" is to deny the existence of these barriers. An equitable organization will make an effort to identify these systemic forms of discrimination and create equity plans that will help create a culture of inclusion while giving individuals equal opportunities and access to employment and education.
Self-Identification
Self identification is voluntary and the data collected is used for the purposes of developing and designing programs to achieve a representative workforce. Information is only disclosed in aggregate form unless required by federal or provincial authority. Please self identify with the category(ies) – Aboriginal, Disability, Visible Minority or Not Applicable - with which you feel most closely associated. Self identify in the My Employment app in PAWS.
Indigenous/Aboriginal Employee Self-Declaration
To have an impact on making USask the best place it can possibly be for Indigenous students and their communities, we invite all faculty and staff who have Indigenous/Aboriginal ancestry to Self-Declare.
Embrace Manacihitowin
Strong relationships are built upon respect, reciprocity, and continuous renewal of values and actions that support healthy connections. The English interpretation of this Cree/Michif phrase is "let us respect each other". This phrase embodies humility and speaks to the spirit of the treaties. It is an invitation to walk alongside, to travel down a path, working together to realize goals and a vision that strengthen all cultures.
The University of Saskatchewan embraces the teachings of manacihitowin, which are drawn from the stories and songs of Elders and Traditional Knowledge Keepers.  As a university, we have both an ethical obligation and a vital opportunity to nurture the sharing of stories that will awaken understanding and inspire our community toward relationships uplifted by our histories, cultures, and lived experiences: manacihitowin.
Indigenization
Indigenization challenges us to amplify the forces of decolonization. Decolonization practices contest divisive and demeaning actions, policies, programming, and frameworks. Indigenization is the healing, balancing force; it calls us to action, invites a rebalancing of relationships, inspires opportunities for mutual cultural understanding, and helps us to find comfort in the discomfort decolonization can entail.
Indigenous Voices – Common Ground Programming
The program goals are to provide four types of information sessions that are fundamental to providing culturally appropriate and relevant understandings about Indigenous histories, cultures, and worldviews into university curricula. The four focal points are:
Sexual and Gender Diversity
As a university, we align with the Saskatchewan Human Rights Commission and the Human Rights of Transgender People. We aim to provide a safe and welcoming environment for all members of our campus community. Our university's institutional values embrace diversity and ensures fair, respectful and inclusive treatment of all its members, no matter their gender.

We acknowledge that our students, staff, faculty and other members of the university community, as well as visitors to campus, are able to use the washroom and change room facilities that they believe most closely align with their own gender.
Resources
There are resources available and you'll find that USask and the greater community is a positive and affirming place when it comes to the issues of Gender and Sexual Diversity. 
Accessibility
Please speak to your SBA if you have accessibility issues that need to be resolved.
Resources
Religion
The University of Saskatchewan has a longstanding history of collaboration with faith representatives who have contributed to a campus culture of respect, inclusion, and pluralism. 
The faith leaders at USask are a multi-faith religious resource to all faculty, staff and students. Please feel free to contact any of them for support.
Discrimination and Harassment Prevention
As a community that encourages life-long learning and discovery, the University of Saskatchewan views the full spectrum of harassment (bullying, discrimination & sexualized violence) as health-harming behavior that can undercut the human capacity to thrive and disrupt our working and learning environment. 
If you, or someone you know, is dealing with a situation of harassment involving faculty and/or staff contact the Discrimination and Harassment Prevention Services (DHPS) office immediately at (306) 966-4936, or by email.
USask Responsibilities
The University of Saskatchewan must fulfill employer obligations of The Saskatchewan Human Rights Code and The Saskatchewan Employment Act. 
The objectives of The Saskatchewan Human Rights Code are to promote and protect individual dignity and equal rights and to discourage and eliminate discrimination. The prohibited grounds of discrimination are age, religion or religious creed, marital status, family status, sex, sexual orientation, mental or physical disability, colour, ancestry, nationality, place of origin, race or perceived race, and receipt of public assistance.
The intent of The Saskatchewan Employment Act is to protect the health and safety of Saskatchewan workers, ensure minimum standards of employment, improve compliance with regulatory standards, and ensure effective enforcement of labour laws in the province.
Federally funded employees and programs must fulfill obligations of the Canadian Human Rights Act and the Employment Equity Act.
Under the Canadian Human Rights Act an organization is required to ensure that all who are affected by the organization are treated equally, and it has an obligation to take steps to eliminate different and negative treatment of individuals, or groups of individuals. The prohibited grounds of discrimination are race, national or ethnic origin, colour, religion, age, sex, sexual orientation, marital status, family status, disability and conviction for an offence for which a pardon has been granted or in respect of which a record suspension has been ordered.
The Employment Equity Act helps to ensure that all Canadians have the same access to the labour market and requires that employers take actions to ensure the full representation of members of the four designated groups within their organizations by providing equal employment opportunities.
Employment and Education Equity Partner
The University of Saskatchewan is an
Employment Equity Partner
, along with several colleges who are Education Equity Partners, with the Saskatchewan Human Rights Commission. The SHRC equity program is a broad, proactive strategy for promoting equality and preventing discrimination as equity groups face more disadvantages than others in education and employment.
The role of Employment and Education Equity Partners is to prevent, reduce or eliminate disadvantages that are related to one of the prohibited grounds of discrimination from The Saskatchewan Human Rights Code.
Getting Help
Discrimination and Harassment Prevention Services
The DHPS office provides confidential consultations, support and advice and will handle your concerns with impartiality.
Wellness Resources
Wellness Resources can assist in providing support with physical/medical accommodations.